Since Three Minor Communications between mainland China and Taiwan was opened on 1st Feb 2001, the ferry between Xiamen and Kinmen has been operated every day. It makes people from Kinmen or Taiwan visit mainland China more convenient and time-saving. It has become one of the most important transportation between Taiwan and mainland China. More and more Chinese travelers visit Kinmen by ferry from Xiamen. Many Taiwanese businessmen also choose this ferry to visit mainland China. Backpackers or young people with low budgets also would like to take this ferry to visit Taiwan from Xiamen via Kinmen.
Ferry between Xiamen and Kinmen
From Xiamen (Wutong Ferry Terminal): takes 30 min, costs 160 RMB. The return trip from Kinmen to Xiamen costs NT$650. There are 10 different companies that run the service, and ferries depart Wutong Ferry Terminal between 08:00 and 18:30, and depart Kinmen between 08:00 and 18:30. The times change slightly every month—here's a link to the monthly schedules.
From Quanzhou (Shijing Port): takes 1 hr, and costs 140 RMB. The return trip from Kinmen to Quanzhou costs NT$650. There are 2 different companies running this route, with ferries departing Shijing Port between 8:30 and 15:00, and setting off from Kinmen between 9:50 and 16:20.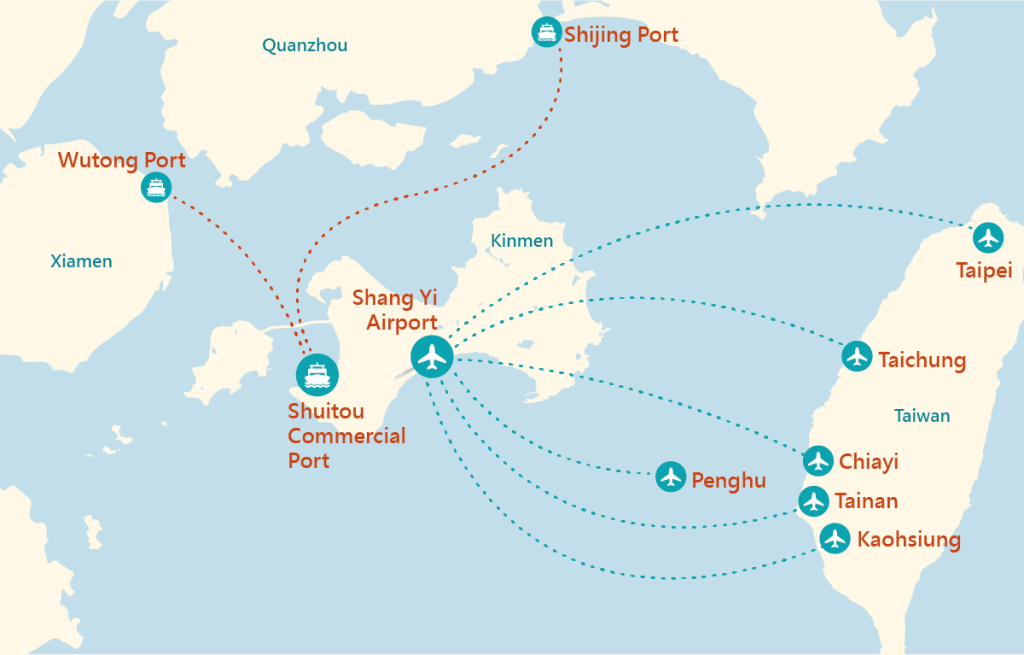 10 things to do on Kinmen Island
The great thing about Kinmen Island is that most sites and museums are free.
Cruise The Streets
Kinmen Island has a very laid-back atmosphere. I enjoyed aimlessly riding around stopping at places that looked interesting and cruising the streets of downtown Jincheng in search of dumplings.
Zhaishan Tunnels
The most giant underground tunnel in Kinmen. Kinmen Island has many underground tunnels left from its turbulent history.
During wartime, they were used to transport food and supplies. At 160km in length, Zhaishan is the longest and most touristic of the tunnels with its interesting granite formations and deep blue water.
Shuitou Village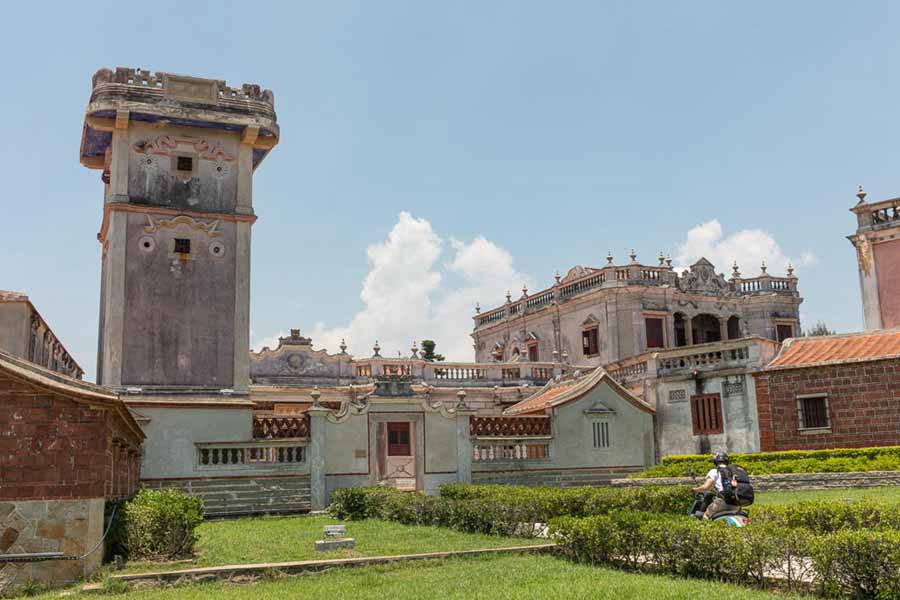 A village in the Jincheng Township known for its houses from the early 20th century designed with traditional Chinese architecture and Western design influence. The Deyue mansion is probably the most popular landmark in the village, built in the 1930s.
Shanhou Cultural Village
These Fujian-style homes dating back to the late 19th century are the main attraction. Make sure to explore the nearby neighborhoods as well.
Visit Little Kinmen (Liehyu) Island
This small island is reachable by ferries that depart from the Shuitou ferry terminal opposite the terminal for ferries bound for Xiamen. Tickets are NT$60 each way and the ferry takes 10 minutes.
Eat All The food:
The food on Kinmen Island is delicious. Downtown Jincheng has tons of little shops serving up snacks and food.
The dishes are similar to those served in Fujian Province and in Taiwan but usually cooked in a very traditional manner. Note that in the afternoon during the peak of the heat most restaurants shut down, so you'll have to really search to find one open.
Climb Taiwu Shan:
At 262m above sea level, Mount Taiwu is the highest point on Kinmen Island. A trip to the top and back down should take about 4 hours including stops at the different landmarks on the way up.
Lake Ci:
An artificial lake formed by a dike built in the 1970s. Come here to bird watch and visit the scattering of forts, barricades and other structures.
Explore Kinmen's Plethora Of Temples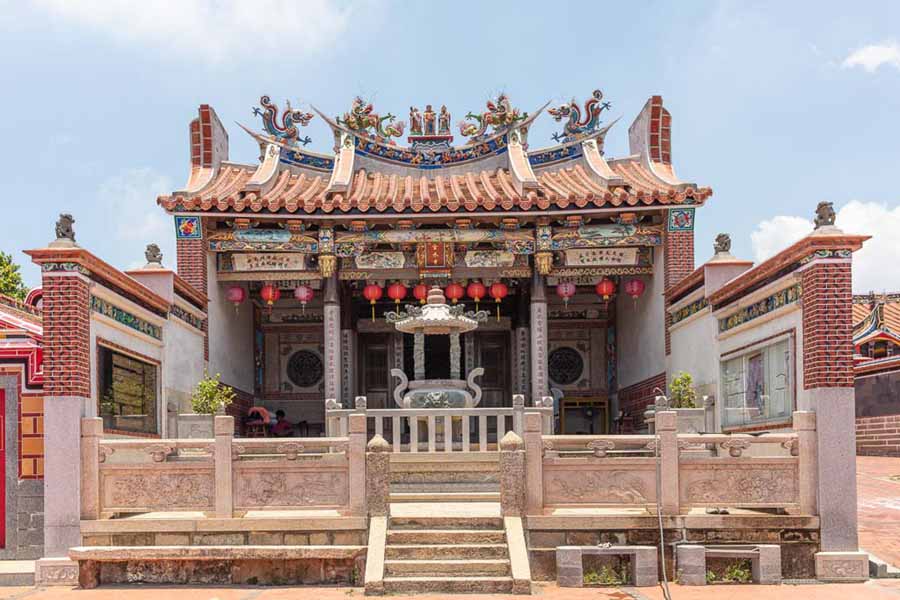 There are heaps of temples on Kinmen Island. Many of them are small, but there are some larger ones too.
Things to consider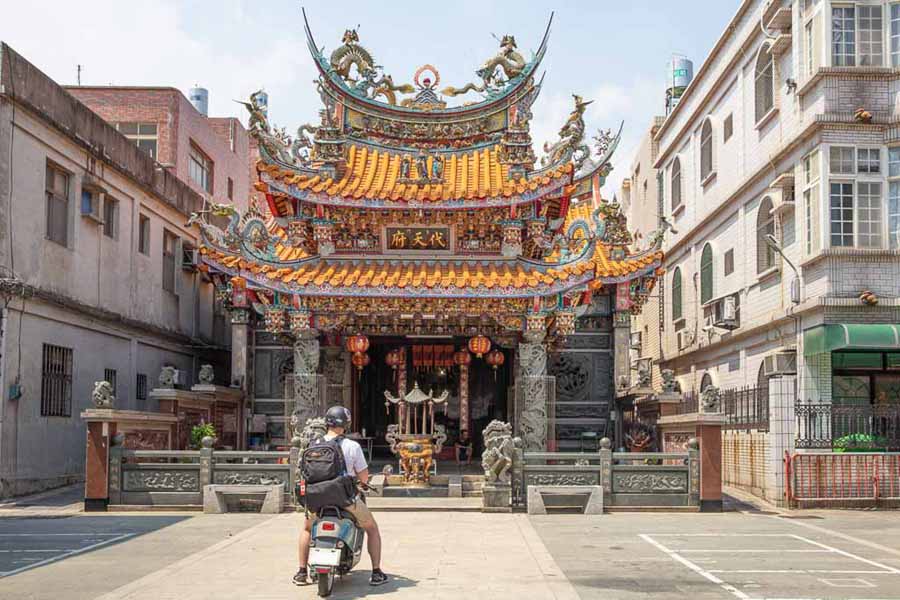 Since Kinmen Island is administered under Taiwan (ROC) the same visa policies apply. Note that if you plan to take the ferry from Xiamen and back you will need a multiple-entry Chinese visa.
Kinmen Island uses Taiwanese Dollars. It's easiest to exchange Chinese RMB. None of the exchangers at the ferry terminal exchange US dollars.
There are ATMs just outside the ferry terminal on Kinmen Island and in the airport.