Empress Dowager Cixi (1835-1908), also known as an 'Uncrowned Queen', has been widely perceived as an extremely powerful, ruthless and mysterious woman who actually controlled the Qing Dynasty (1644-1911) for as long as 48years.
She is often portrayed by historians, writers and dramatists as a villainous, greedy and hedonistic woman who suppressed reform, deprived emperors of their true loves, embezzled public funds, was chiefly responsible for China's repeated defeats in battles with invading world powers and ultimately, was blamed for the fall of China's last feudal dynasty.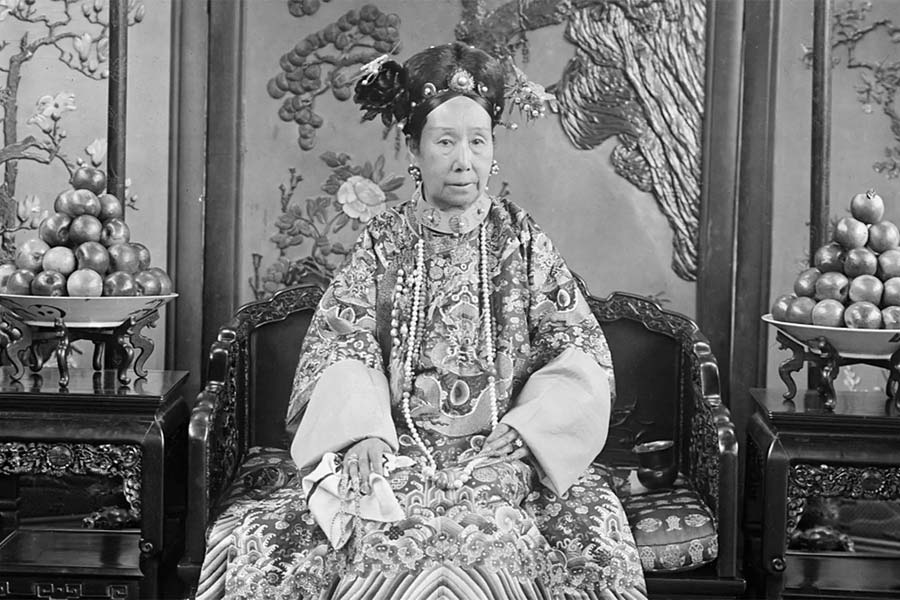 Empress Dowager Cixi was born Yehenara, a daughter of a minor official of a Manchu clan. Her father died when she was young and her childhood was not a happy one. She later said that she felt mistreated, neglected and unloved by her family. So she was happy when she was chosen as a candidate for a concubine by the imperial court when just 14 years old.
In the four years that followed, Cixi was promoted several times to become the Imperial Concubine of Emperor Xianfeng. The hardships of her childhood had always been a driving force behind Cixi's great ambition to excel among her peers and her insatiable desire for power. A golden opportunity eventually came when she gave birth to the emperor's only son and heir, Zaichun, who later became Emperor Tongzhi.
Cixi actually began to wield political power even before her son ascended to the throne. Due to the fact that Emperor Xianfeng was never in good health in his later years and that Cixi was good at writing and calligraphy, the emperor often entrusted Cixi to read and make comments on official documents on his behalf.
After Emperor Xianfeng died in 1861 and her son became emperor, Cixi was officially given the title of Empress Dowager. She immediately dismissed the regents appointed by the old emperor and became regent to her young son.
Around that time, China faced constant invasions by Western powers and widespread domestic uprisings. Cixi relied on the armed forces of the Han landlords to suppress the peasant rebellions and backed the so-called "Westernization Movement" to revitalize the country by introducing Western learning and technology.
However, because of her ignorance of Western science, many of Cixi's decisions actually hindered the progress of the modernization movement.
Her son, Emperor Tongzhi, was never really given the power to run the country and died of smallpox when he was only 20 years old.
After the death of her son, Empress Dowager Cixi ignored the dynasty's traditional rules and procedures of succession and installed her nephew as Emperor Guangxu.
In the beginning, the new emperor was nothing more than a puppet ruler of the dynasty. However, witnessing the worsening political, social, economic and military situation in the country, the emperor and his reform-minded supporters eventually launched the so-called "Hundred Days' Reform" in 1898, aiming at making fundamental changes to the country's social system and government institutions.
But the 103 days reform movement was opposed by imperial conservatives, headed by Cixi, who staged a coup to end the movement and placed the emperor under house arrest. Cixi also forced Emperor Guangxu's favorite concubine to commit suicide.
To meet her insatiable desire for an extravagant lifestyle and luxuries, Cixi embezzled huge amounts of state funds originally allocated for the Chinese navy to build grandiose palaces for herself. This was partly blamed for China's humiliating defeat in the 1894-1895 Sino-Japanese War.
After Emperor Guangxu died of illness on November 14, 1908, Empress Dowager Cixi herself passed away the next day, some three years before the collapse of the Qing Dynasty.
Following her original orders, a three-year-old boy, Puyi, was installed as the new Emperor Xuantong, China's last emperor.