In 2008, the UNESCO officially recognized Fujian Tulou(China's Hakka residential buildings) as a World Heritage Site. It highlighted the historical, cultural, and architectural value of these remarkable structures. The selected World Heritage Site, Fujian Tulou, consists of forty-six Tulou buildings located in Yongding, Nanjing, and Hua'an county. In this article, We will provide you with a detailed introduction.
The 6 Tulou Clusters listed in UNESCO site
Chuxi Tulou Cluster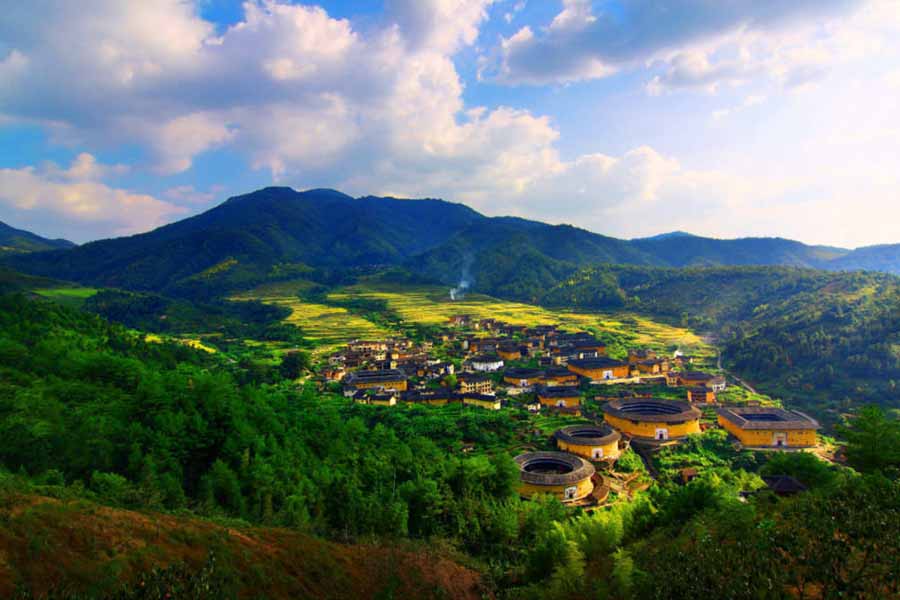 Set amongst the deep mountains of Chuxi Village in Xiayang Town, Yongding County, Chuxi Tulou Cluster, was completed from the Ming Dynasty to modern times after hundreds of years. In front of the Tulou cluster, which is surrounded by mountains, there is a stream flowing from east to west. Moreover, covered with pebbles, running as clear as crystal, the stream has charming scenery.
Fronting water and with mountains at the back, Chuxi Tulou Cluster was built according to local conditions and well arranged. Facing north, it composes of five round buildings and thirty-one square buildings. The main shapes are rectangular, square, round, oval and hexagonal. Ten buildings were inscribed on the World Heritage List, including Jiqing Lou, Yuqing Lou, Shengqing Lou, Huaqing Lou, Gengqing Lou, Xiqing Lou, Fuqing Lou, Gongqing Lou, Fanqing Lou and Shanqing Lou, all of which are well preserved. The layout of them still retains the traditional pattern of ancient times.
Hongkeng Tulou Cluster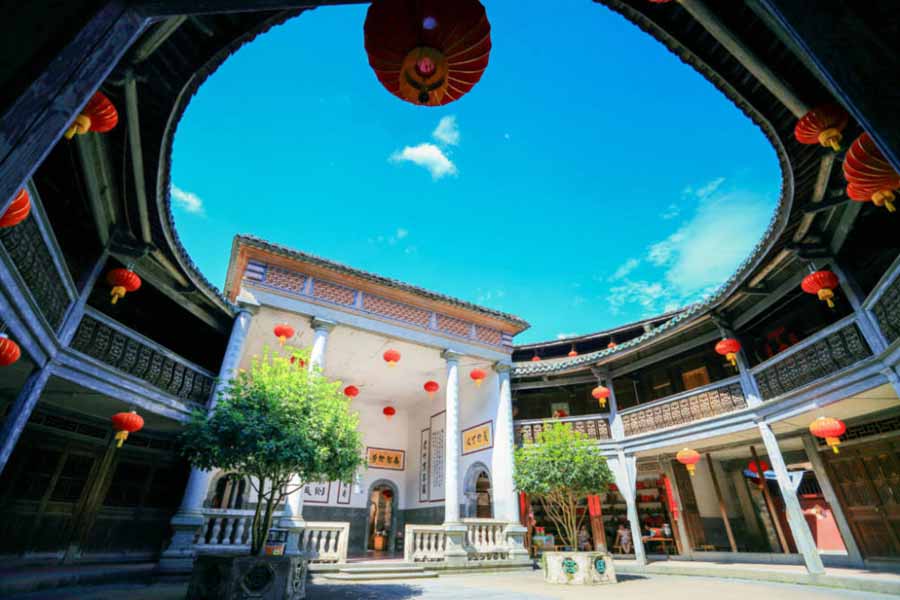 Hongkeng Tulou Cluster is located in Hongkeng Village, Yongding County. In the 13th century (the end of the Song Dynasty and the beginning of the Yuan Dynasty), Lin's foundation was laid in Hongkeng Village. Since then, 123 Hakka earth buildings were built at different times, with different shapes and scales. Being situated near hills and beside rivers, Hongkeng Tulou Cluster's layout was reasonable, which were built along the stream and well arranged. These buildings, green hills, clear waters, village roads, propous and fields are intimately and perfectly integrated, constituting a simple and beautiful picture.
The "Prince of Tulou" – Zhencheng Lou, whose appearance is like an officer's cap, is unique among Fujian Tulou. Combining Chinese and Western cultures, the cultural connotation in it is profound. In front of the palace-style Kuiju Lou, it looks like a tiger descending from the mountain, which makes people marvel at the wisdom of the builders in adapting to the situation. Seeing Fuyu Lou from the viewing platform, it unites beauty and intelligence, enjoys unique charm, and is a classic of the Five Phoenixes Buildings. Standing in the middle of the smallest Rusheng Lou, when you look up into the sky, in minutes, you will feel that you are just the frog sitting at the bottom of a well and looking up into the sky.
Gaobei Tulou Cluster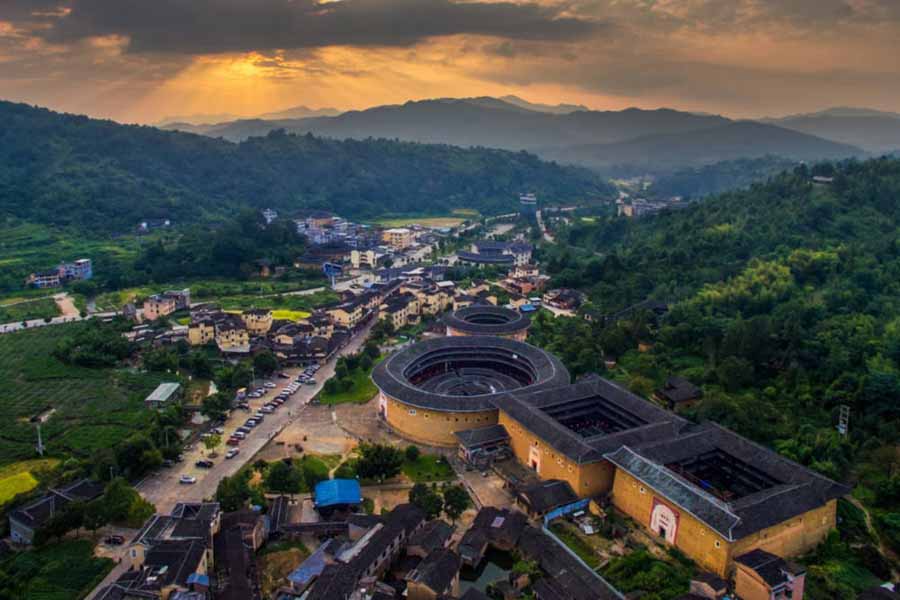 Gaobei Tulou Cluster is situated in Gaobei Village, Yongding County. Backing onto high mountains, a stream flows from west to east in front of it. Most villagers have the same family name – Jiang. Wuyun Lou was constructed in the Jiajing Period of the Ming Dynasty. Four buildings were inscribed on the World Heritage List, including Chengqi Lou, Wuyun Lou, Shize Lou, and Qiaofu Lou. Known as "King of Round Tulou", Chengqi Lou, is one of the most famous ones. Built by the three generations of the Jiang family, the construction of Chengqi Lou took over 83 years from the Chongzhen Period of the Ming Dynasty. In 2010, Chinese President Hu Jintao praised, "Hakka Tulou is a treasure of Chinese culture, a model of harmonious coexistence between a big family and a small society", which is also a true portrayal of the Hakkas living together.
Tianluokeng Tulou Cluster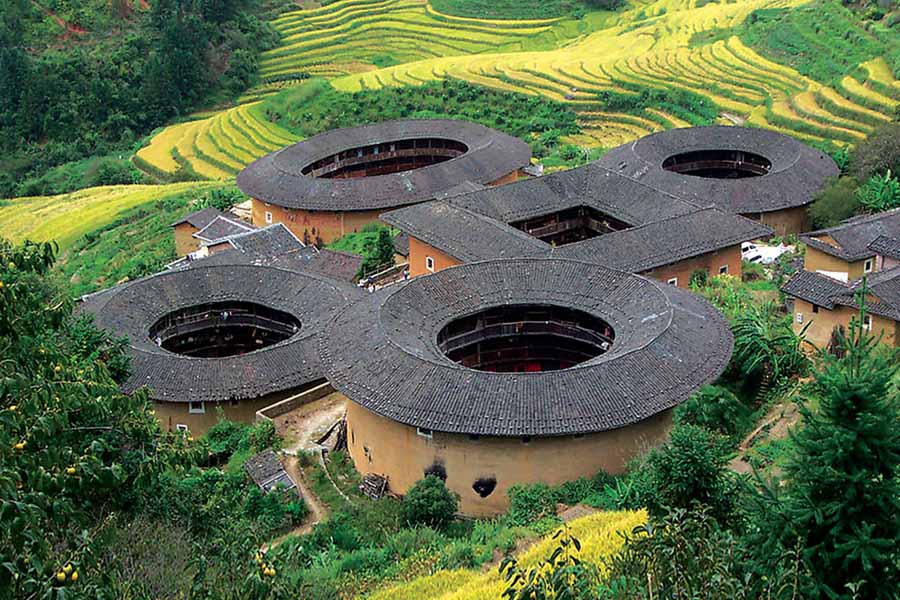 Tianluokeng Tulou Cluster locates in Tianluokeng Village, Nanjing County. It is commonly known as "Four Dishes and One Soup". It is a symbol of Fujian Tulou, the world's cultural heritage. The overall layout of this Tulou cluster is plum-shaped with a building area of 6357.6 square meters. The whole cluster sits east facing west. The cluster is comprised of five earth buildings, namely Buyun Lou, Zhenchang Lou, Wenchang Lou, Hechang Lou, and Ruiyun Lou. The one in the center is a square dwelling and is surrounded by three round buildings and an oval building. These earth buildings are built with undulating mountains and are well-arranged to form the most exquisite combination of the Tulou cluster. They echo with the terraces and become a feast for the eyes with their unique scenic beauty. Looking down at these buildings, viewers can see a plum blossom among the mountains. Tianluokeng Tulou Cluster is a unique and fabulous model of mountain architecture in the world. It is a creative masterpiece of earth-building architecture. The arrangement and design of these buildings embody the perfect combination of the oriental philosophy of "Harmony between Man and Nature" and the Chinese "Feng Shui" theory.
Hekeng Tulou Cluster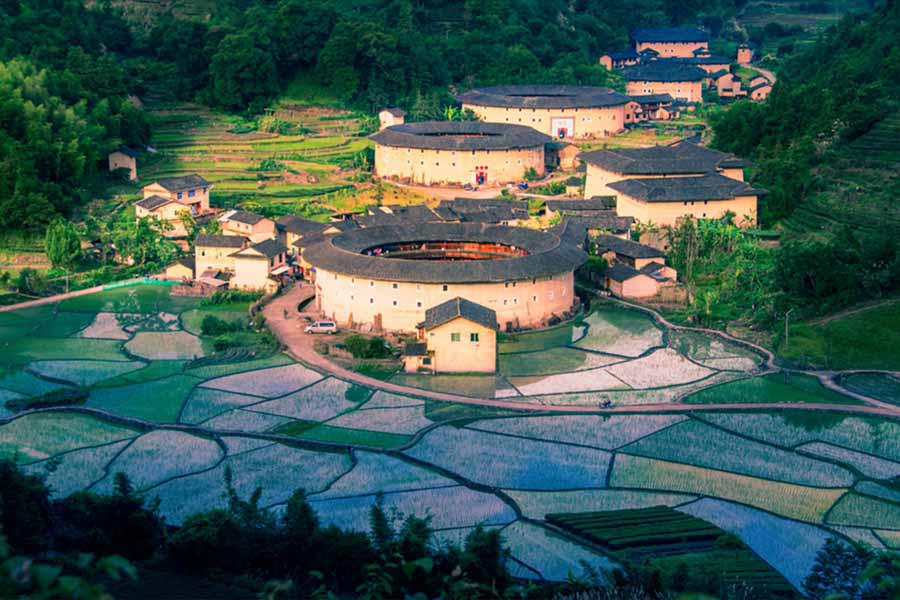 Hekeng Tulou Cluster locates in Hekeng Village, Nanjing County. It is composed of 13 earth buildings of different shapes and built in different eras. Earth buildings of this cluster are distributed in valleys and surrounded by mountains. They were built between the reign of Emperor Jiajing in the Ming Dynasty (1549) and 1972. Among them, there are six circular buildings, six square buildings and one pentagonal building. The whole cluster is shaped like a big dipper. Chaoshui Lou was the first Tulou in Heken and was rebuilt after a fire in 1923. When Nanxun Lou was first built, the main gate of the building sat east and faced to west. But later, the main gate was changed from the west side to the south side. Yongsheng Lou has a low front and high rear. There is a plague with the Chinese character "De Shi Xiang Lyu", which means a moral model for the neighborhood, hung in the ancestral hall of Yongsheng Lou. This plague was made in the year of Guimo during the reign of Emperor Qianlong in the Qing Dynasty. There are 25 two-storey dwellings outside Yongsheng Lou for protecting this main building. Most of the earth buildings in this cluster have wells. From the completion of the first Tulou in the Hekeng Tulou Cluster to now, buildings in this cluster have been repaired in different eras. But the walls, structures and the indoor and outdoor space have been basically maintained the original historical appearance. This Tulou cluster has shown the long history and heritage of traditional earth-ramming technology. It also has a high value in architectural art as well as historical value.
Dadi Tulou Cluster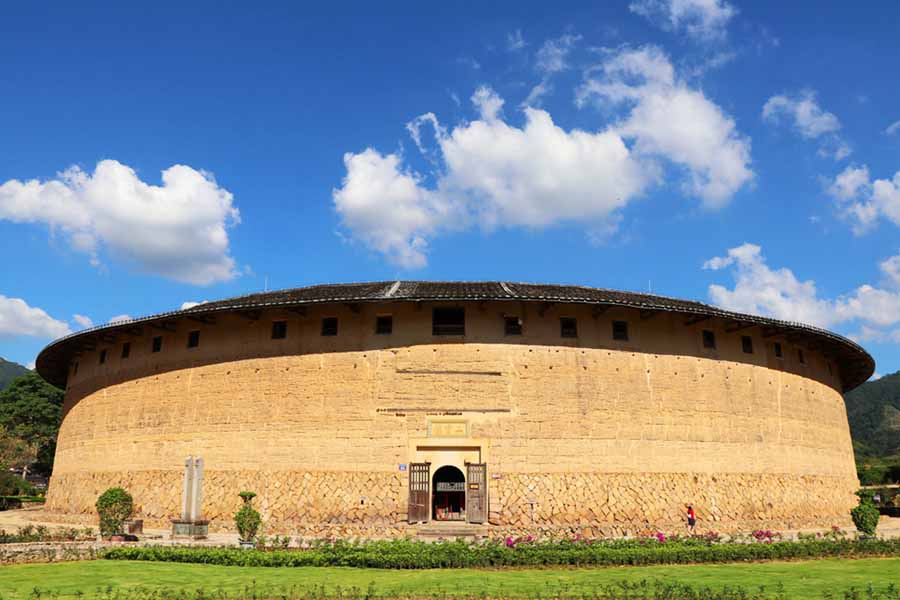 Dadi Tulou Cluster, inscribed on UNESCO's World Heritage List in July 2008, is a major cultural heritage site protected at the national level and a 4-A tourist attraction of China. This Tulou cluster consists of three buildings, namely Eryi Lou, Nanyang Lou, and Dongyang Lou.
Eryi Lou was built in the 5th year of Emperor Qianlong's reign in the Qing Dynasty (1740). It is a round earthen building with a double-ring layout, and is honored as the "King of Tulou", "No. 1 Tulou in China", and "Gem of Residential Houses". The outer ring of the building has a diameter of 73.4 meters and a height of 16 meters, and its outer wall is 2.53 meters thick. The rooms are grouped and partitioned vertically into separate units, yet connected through a back corridor adjacent to the outer wall. There are 16 units, with 213 rooms in total. A total of 226 murals, 228 paintings, 349 wood carvings and 163 couplets are still extant in the building.
Nanyang Lou was built in the 22nd year under Emperor Jiaqing's reign in the Qing Dynasty (1817). The outer ring building is a 3-storey building, 13.25 meters in height and 51.6 meters in diameter. It is partitioned into 4 units, with 96 rooms in total. Rooms in each storey are connected through an inner corridor and an outer corridor. It is the only round Tulou with double corridors in Fujian Province.
Dongyang Lou was also built in the 22nd year under Jiaqing's reign in the Qing Dynasty (1817). It is a square earthen building with 55 meters in width, 28 meters in depth, and 11 meters in height. There are 4 halls and 41 rooms in the building. The whole building is lower in front and higher at the back, making the rooms airy and light, and very suitable for living.
The 4 Fujian Tulou listed in UNESCO site
Yanxiang Lou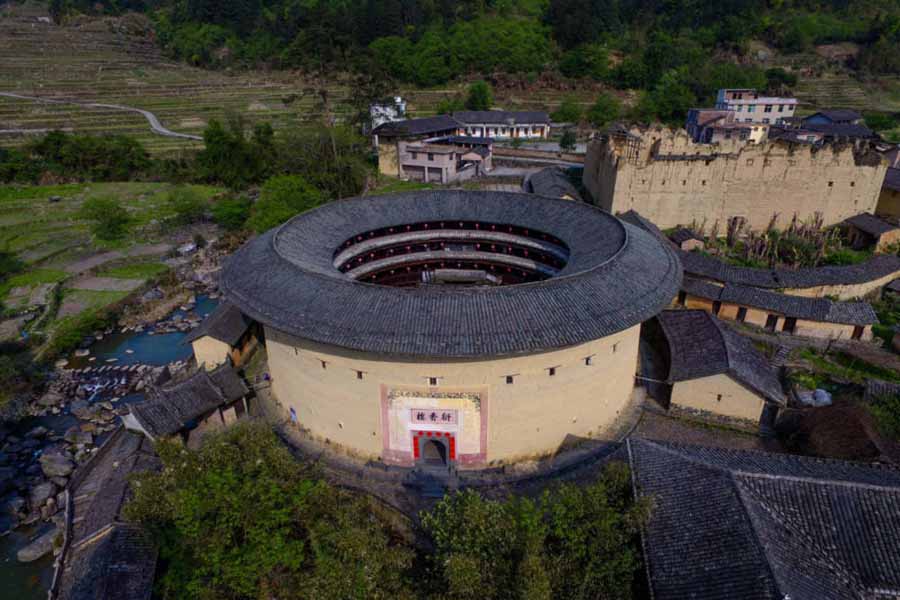 Located in Xinnan Village, Yongding County, Yanxiang Lou was founded in 1880 by Su Guchun. The main body of Yanxiang Lou is 40m in diameter, with a 1.5m-thick bottom wall, a 0.7m-thick top wall, and a 14.5m-high wall. The main building was constructed according to the Eight Diagrams. With wing rooms on the left and right sides, the inner hall imitates the mansion-style building, including the back hall, the nave and the front hall. The walls, left and right doors inside and outside the hall are ingeniously carved, and the calligraphy and paintings on the walls are exquisite. The overall layout of Yanxiang Lou is harmonious, unified, beautiful and practical. Hakka Tulou exemplifies the wisdom and creativeness of the ancestral Chinese people and is a unique architectural art treasure of the Chinese nation.
Zhenfu Lou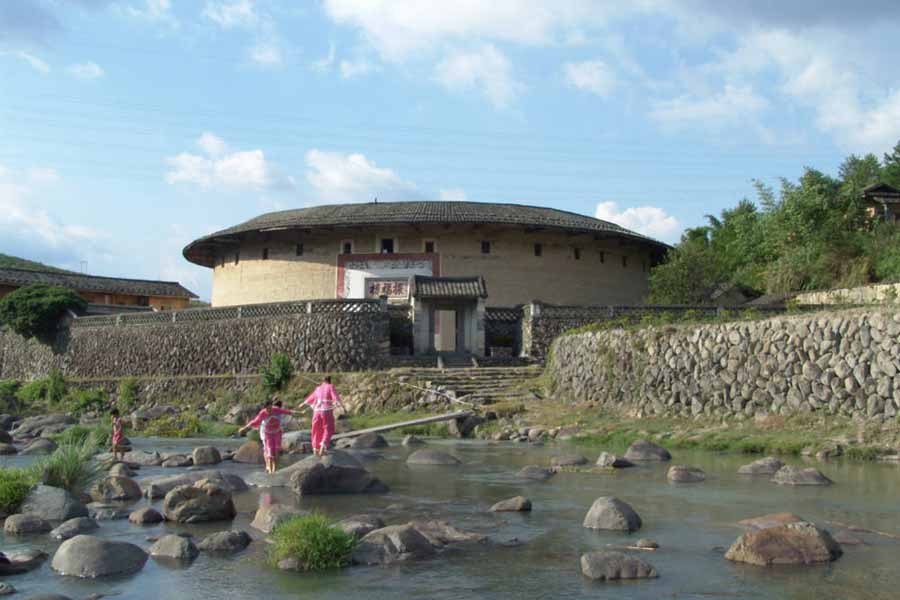 Lied in Xipian Village, Hukeng Town, Zhenfu Lou was built in 1913 by Mr. Su Zhentai, who became a rich man in the tobacco business. Like Zhencheng Lou, it is one of the masterpieces of Hakka Tulou in the early 20th century, which combined some modern Western architectural arts with classical Chinese garden arts.
With the culture of geomantic omen, "The dancing phoenix shows there are some splendid mountains. The flying dragon shows there are some green waters around" was written on the gatepost couplet. It accurately describes a beautiful landscape map of mountains and villages, consisting of Zhenfu Lou and the surrounding environment in harmony. In front of the gate, there is a murmuring stream, which is wide and gentle. In the river, there are some large stones lying across. The high dikes are on both sides, which are thick and firm. Not far from the bridge, there are several deep pools. The ancient banyan trees spread their branches and leaves, which are like umbrellas and covers, throughout the bank. If you look back at Zhenfu Lou on the opposite bank of the gate, you will see that Zhenfu Lou is located in the mountains of which both sides are canyons. The building is neither tall nor short, and it just plays the role of "transition" between the two mountains. It can be said that the beautiful and quiet landscape and pastoral environment centered around Zhenfu Lou is a masterpiece of the integration of heaven, earth, and human.
Huaiyuan Lou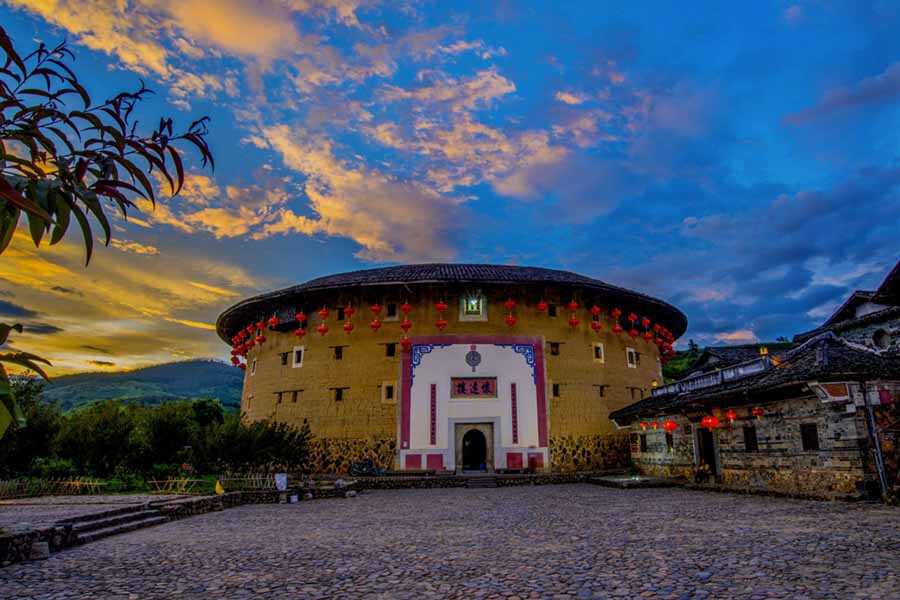 Huaiyuan Lou locates in Kanxia Village, Nanjing County. It is a double-annular building that was built in the first year of Emperor Xuantong's reign of the Qing Dynasty (1909). It sits in the north and faces to the south. It covers an area of 1,130 square meters and the construction area of 4,520 square meters. The foundation was built with giant cobblestones and trinity mixture fills, more than 3 meters high. The wall is still smooth without any peeling-off till now. Huaiyuan Lou is the best-preserved double annular Tulou with the most cultural connotations among all the circular earth buildings in Nanjing. It is also representative of a circular building with a corridor to connect all rooms on each floor. Huaiyuan Lou has a complete defense function. There are four types of defense systems on the outer ring of the building for anti-theft, anti-bandit, fire-proof and waterproof purposes. The most eye-catching feature of this building is the ancestral hall at the core of the inner courtyard and the private school named "Sishi Room" where the family's children study. The building has a strong cultural atmosphere. This building has combined all the architectural achievements of Fujian Tulou and Confucian culture perfectly. It stands as a testament to many important historical events in modern China and reflects the history of how the ancestors of Tulou residents advocated culture and wisdom.
Hegui Lou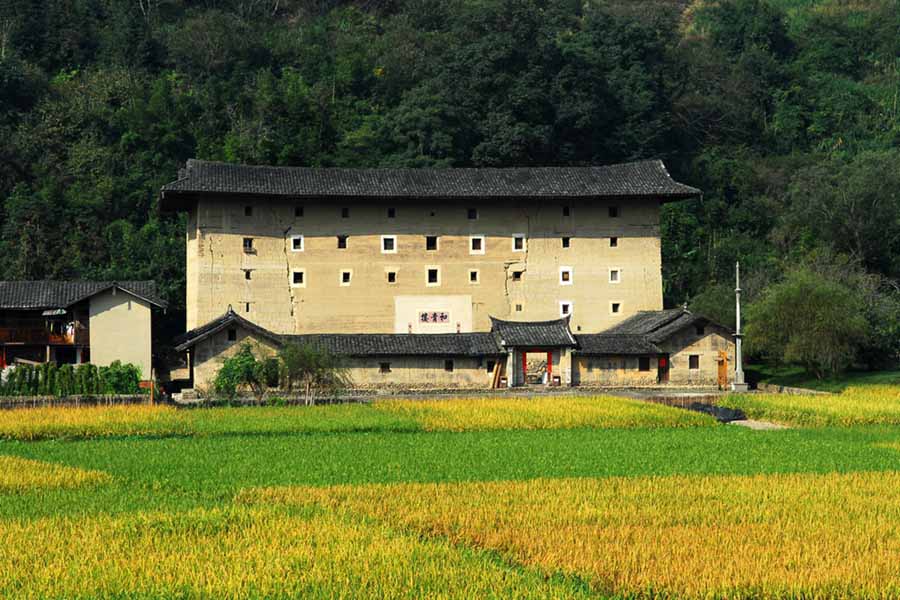 Hegui Lou, also named Shanjiao Lou (which means the dwelling at the foot of the hill), is a five-storey square dwelling located in Pushan Village, Nanjing County. This dwelling was built in 1732 (the tenth year of Emperor Yongzheng's reign in the Qing Dynasty). It sits west and faces the east. It covers an area of 1947.3 square meters, with a height of 17.95 meters. It is the highest square dwelling among the earth buildings (Tulou) in Fujian. The wall is rammed with mud. The bottom wall is 1.4 meters thick and shrinks layer by layer. The total height of the wall is 17.95 meters and the ratio of height-to-thickness reaches 13:1. The soil wall of Hegui Lou has a high academic value for architectural research. There was a private school in this dwelling and forms the unique layout of "house surrounded by dwelling and dwelling surrounded by house". There are two wells in the dwelling. Although they are close to each other, the water qualities are completely different. They are called "Yin and Yang Wells". Hegui Lou, the square dwelling that resembles a castle is built on a 3,000-square-meter marshland and looks like an ark on land. Till now, it has survived for more than 200 years.
FAQs of Fujian Tulou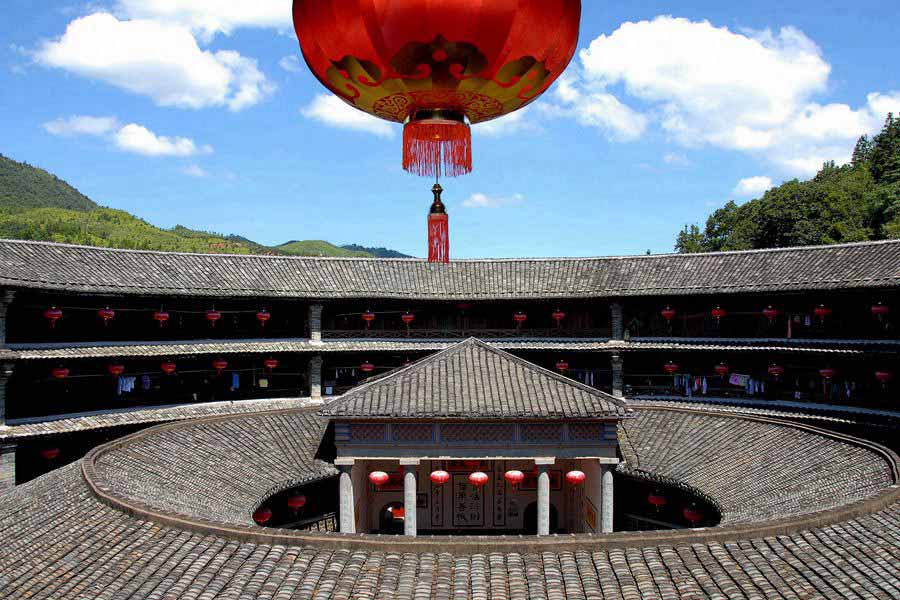 Where is Fujian Tulou?
Fujian Tulou are mainly spotted in the mountainous regions of Yongding County, Nanjing County, and Hua'an County in Fujian province.
How many Tulou are listed on the world heritage list?
A property of 46 buildings constructed between the 15th and 20th centuries has been listed in the world heritage list in July 2008, including 6 Tulou clusters and 4 independent Tulou.
Which Tulou are located in Nanjing County?
There are two Tulou clusters and two stand-alone Tulou in Nanjing County. They are Tianluokeng Tulou Cluster, Hekeng Tulou Cluster, Heguilou, and Huaiyuanlou.
Which Tulou are located in Yongding County?
There are three Tulou clusters and two stand-alone Tulou in Yongding County. They are Gaobei Tulou Cluster, Hongkeng Tulou Cluster, Chuxi Tulou Cluster, Zhenfulou, and Yanxianglou. ( Zhenfulou and Yanxianglou belong to the well-known Nanxi Tulou Cluster).
Which Tulou clusters are located in Hua'an County?
Dadi Tulou Cluster
How far are there from Xiamen to the Fujian Tulou area?
It is at least 100 miles from Xiamen to Nanjing and Yongding Tulou area (3 hour's driving distance). And it is at least 84 miles from Xiamen to the Hua'an Tulou area (2.5 hours driving distance).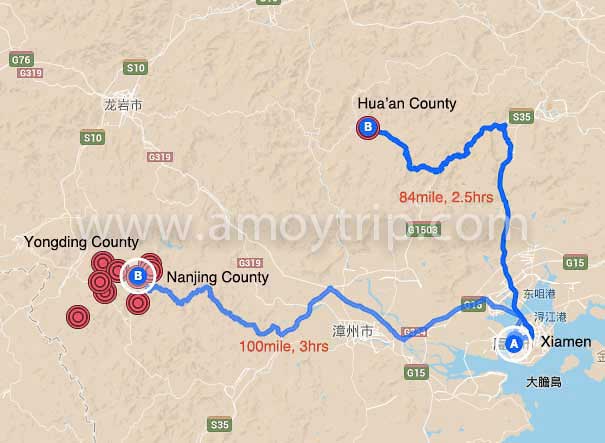 How far are these Tulou clusters away from each other?
Except for Dadi Tulou Cluster in Hua'an county, others are situated within a 120km area in Nanjing and Yongding. Detail distances are as below:
Hekeng Tulou Cluster — Tianluokeng Tulou Cluster: 6.7 miles, 21 minutes driving distance.
Hekeng Tulou Cluster — Gaobei Tulou Cluster: 5 miles, 13 minutes driving distance.
Hekeng Tulou Cluster — Heguilou: 10 miles, 29 minutes driving distance.
Heguilou — Huaiyuanlou: 1 mile, 3 minutes driving distance.
Gaobei Tulou Cluster — Hongkeng Tulou Cluster: 5 miles, 14 minutes driving distance.
Hongkeng Tulou Cluster — Zhengfulou: 4 miles, 17 minutes driving distance.
Hongkeng Tulou Cluster — Chuxi Tulou Cluster: 17 miles, 58 minutes driving distance.
Zhengfulou — Yanxianglou: 2 miles, 5 minutes driving distance.